---
Disclosure :
This site contains affiliate links to products. We may receive a commission for purchases made through these links.
---
Reading Football Newspaper Book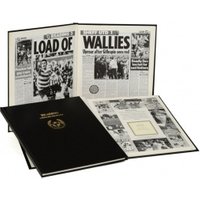 Reading Football Newspaper Book. Relive those glorious moments of a favourite football team captured in newsprint. From the early 20th century to the recent past, each book affords a unique perspective on your team or sport's colourful history. They are not written by someone looking back in time, but by reporters who witnessed the games and events as they unfolded and in a language of the time. Capture the history and greatest moments of Reading through the newspapers, as written at the time. Starting with coverage of Reading's 1-0 defeat of Aston Villa in the 1912 FA Cup 2nd Round, this book charts a glorious history of great games and League and Cup titles through the decades of the 20th century. Top stories include, beating Brentford 7-1 to gain promotion to Division 2 in 1926, the heart stopping FA Cup semi-final in 1927, the Diamond Jubilee celebrations in 1930 looking back on 60 years, the 10-2 slaughter of Crystal Palace in 1946, the dominance over QPR in 1961 winning 3-6 away, and the glorious 3-1 win over Chelsea in the Littlewoods Cup 2nd Round in 1987. Read about the first match at the Madejski Stadium against Luton in 1998 and the rise in fortunes since then, culminating in winning the English Champions League and gaining promotion to the Premiership in 2006. A unique and wonderful gift and must have for all Reading fans.