---
Disclosure :
This site contains affiliate links to products. We may receive a commission for purchases made through these links.
---
Wolverhampton Wanderers Football Newspaper Book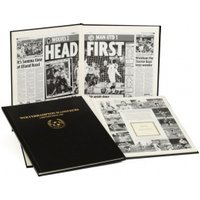 Wolverhampton Football Newspaper Book. Relive those glorious moments of your favourite team captured in newsprint. From the early 20th century to the recent past, each book affords a unique perspective on your team or sport's colourful history. They are not written by someone looking back in time, but by reporters who witnessed the games and events as they unfolded and in a language of the time. Capture the history and greatest moments of Wolverhampton through the newspapers, as written at the time. Starting in 1908 with coverage of the FA Cup Final win over Crystal Palace, this book charts a glorious history of great games and League and Cup titles through the decades of the 20th century. Top stories include the FA Cup final against Spurs in 1921, winning the FA Cup in 1949 and 1960, securing the League Championship in 1954 after 66 years, and again in 1958, winning the League Cup in 1974 and 1980. Read about top signings, such as Hancock in 1946, Andy Gray in 1979, Kenny Miller in 2001, the best European games over the past 50 years, Graham Taylor's appointment in 1994, Glen Hoddle in 2004, much much more. A unique and wonderful gift and must have for all Wolves fans.